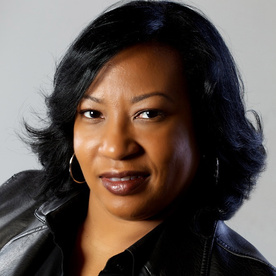 BIO
Art is her first love! Theresa Jones began exploring her artistic abilities as early as the age of fourteen; She attended her first art class, and her passion and love for art has continued unabated ever since.
The art of makeup, hairstyling and nail artistry are a natural extension of her undergraduate education in fine arts. Theresa studied at both the University of Illinois at Champaign-Urbana and Columbia College of Chicago. At both institutions, she studied fine art, graphic art, and media art, ultimately earning a Bachelor's Degree in Broadcast Communication from Columbia College of Chicago.

Theresa, an Illinois State - Certified Makeup Artist, trained by Jill Glaser and the other instructors of Make Up First ® School of Makeup Artistry. In addition to, she is a non-exclusive makeup artist with Artists by Make Up First, LLC specializing in beauty, fashion, bridal, body art, and airbrush makeup. Also, she is trained and skilled in theatrical and special effects makeup, as well as camouflage makeup for skin discolorations.

Moreover, Theresa is also an Illinois State - Licensed Nail Technician, with over twenty years of experience. As a manicurist she also utilize her artistic skills, working in the application of acrylics, gels, minx's and nail art. Finally, from working in hair salons for over twenty years, she has become an accomplished hair stylist.

Theresa is fortunate to be able to pursue her life-long passion for art, freelancing as a makeup artist, nail technician and/or hairstylist. She will always be an art student, learning through and working with her colleagues in the field. As the celebrated sculptor, Henry Moore, stated, "There's no retirement for an artist, it's your way of living so there's no end to it."

Theresa is available by appointment for work in print, film television and video.

---